U.S. futures, European shares extend rally despite uncertainty over looming U.S. tariff round
British pound gains for the 5th straight session on growing likelihood of Conservative party win
WTI clings onto U.S. inventories-drop gains as OPEC meeting begins
Key Events
Shares in Europe and futures on the , and extended a rebound this morning that was favored by reports that the world's two largest economies moved closer to a trade deal even amid hostile rhetoric.
The rebound came after a three-day panic selloff prompted by Donald Trump's remarks that a deal may only come after 2020. Meanwhile, however, the U.S. president's intentions regarding the next round of tariffs on Chinese goods, scheduled for Dec. 15, remain unclear.
It's surprising that the market continues to react to all these reports when the trade environment hasn't fundamentally changed: China still wants the U.S. before the signature of a phase-one deal; the U.S. still wants China to commit to purchasing more U.S. agricultural products.
What has incrementally changed over the last two weeks is that both sides seem to be sending out political messages for their own respective audiences, as each ignores the other.
And even if both sides reluctantly swallow a phase-one deal, there seems to be little chance under current conditions that they'll reach a final agreement—and virtually zero chance they'll do so before the U.S.'s November 2020 presidential elections.
As to the question of whether U.S. President Donald Trump will press ahead with the Dec. 15 15% tariff round — which would hit $156 billion of Chinese consumer goods and which hold a key importance for the broader economy and the electorate — analysts are finding it challenging to make a judgement call. Trump's plan seems to change by the day. Would he be willing to put the tariff tool down, even temporarily, ahead of what's promising to be a tight election, again?
Technically, if the contract on the S&P 500 penetrates 3120, it will have completed a H&S bottom, suggesting an end to the preceding decline, at least in the very short term—but long enough to attempt another record high.
In Europe, household goods and healthcare shares pushed the higher, as the rally eclipsed German equities' underperformance after the country's figures disappointed.
Global Financial Affairs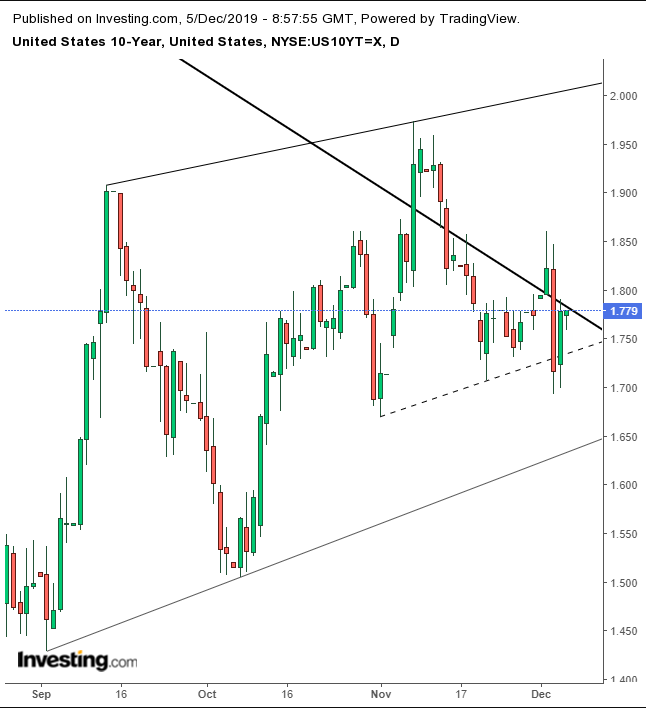 UST 10-Year Daily Chart
Yields on Treasurys were flat after whipsawing between the biggest drop since August on Tuesday and an almost equal rebound, on the shifty trade outlook. Technically, rates are fluctuating as the short term and the long term struggle for dominance.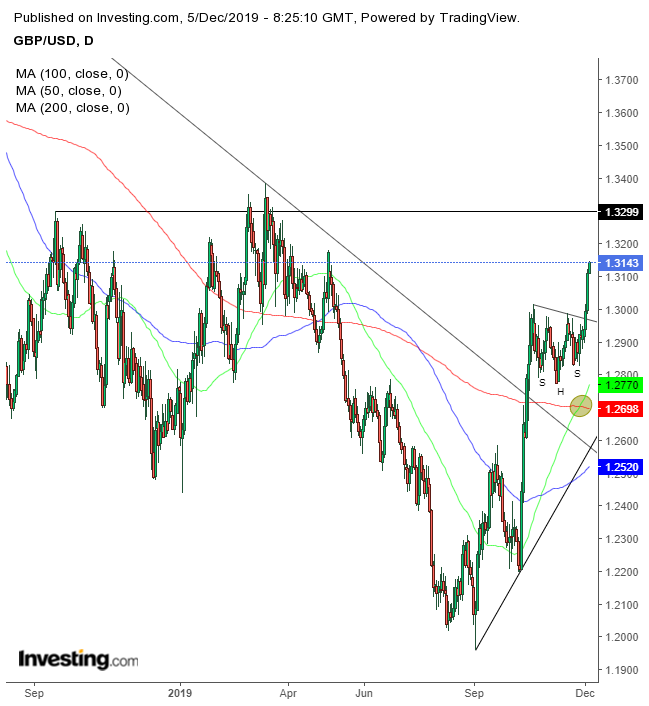 GBP/USD Daily Chart
The climbed for a fifth day against the greenback as expectations grew for a Conservative party's victory in next week's general election. Technically, the price completed a H&S continuation pattern.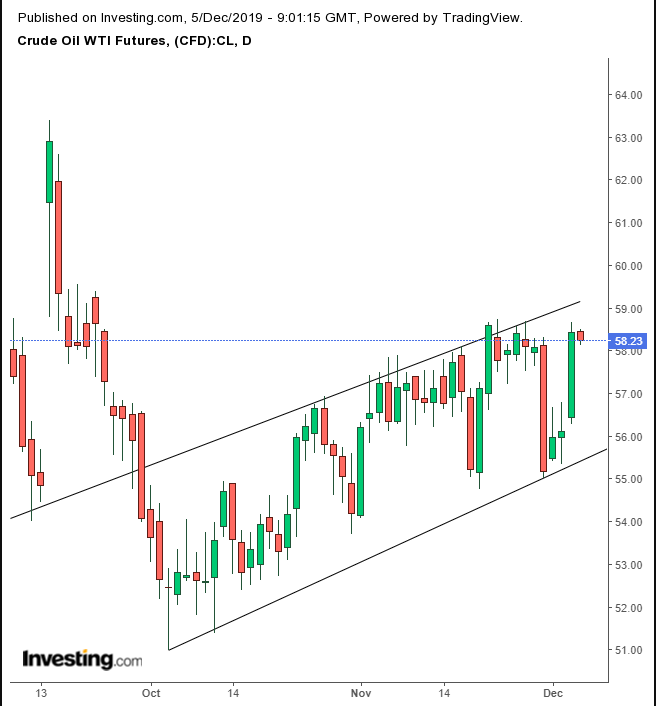 hit the resistance of its channel top but kept most gains of a rally after Energy Information Administration data showed fell substantially more than expected. A key OPEC meeting kicks off in Vienna today, ahead of a summit with other non-OPEC oil producers tomorrow that will determine .
Up Ahead
Saudi Aramco's initial public offering is scheduled to be priced today, with Riyadh looking to raise more than $25 billion.
Market Moves
Stocks
France's advanced 0.3%.
The climbed 0.5%.
The gained 0.3%.
Currencies
The slid 0.1%.
The British pound advanced 0.3% to $1.3144.
The gained 0.1% to $1.1086.
The was little changed at 108.90 per dollar.
Bonds
The yield on 10-year Treasurys slipped less than one basis point to 1.77%.
The yield on Treasurys gained less than one basis point to 1.58%.
Germany's yield climbed less than one basis point to -0.31%.
New Zealand's yield advanced six basis points to 1.469%.
Commodities
West Texas Intermediate crude dropped 0.3% to $58.24 a barrel.
declined 0.2% to $86.69 per metric ton.
fell 0.1% to $5,881 per metric ton.
advanced 1.6% to $0.1306 a pound.


[ad_2]
How useful was this post?
Click on a star to rate it!
Average rating / 5. Vote count:
No votes so far! Be the first to rate this post.