U.S. futures extend Wall Street selloff as Trump quashes hopes of quick U.S.-China deal

European shares waver on reports of E.U. retaliation against U.S. tariffs threat

U.S. Treasury yields reverse steeply after Trump remarks spur risk off
Key Events
Futures on the , and extended Monday's widespread selloff this morning, as the global trade dispute reached new heights.
U.S. President Donald Trump said a trade deal with China to after the November 2020 presidential elections, dashing hopes that an agreement between the world's two largest economies could be reached any time soon.
On another front, the French government said the E.U. stood to any further U.S. tariff threat, after Trump yesterday announced higher steel tariffs on Argentinian and Brazilian goods and similar plans aimed at Europe and Turkey—spurring extensive losses that saw the suffer its biggest drop in nearly eight weeks.
Adding to the downward market pressure, China announced a new trade threat of its own, with Chinese state media saying the government is putting together a blacklist of U.S. companies that may be subject to sanctions.
In Europe, losses in miners' stocks offset gains in tech and chemicals shares, trimming an earlier climb on the , which was likely driven by a buying dip after the benchmark posted its worst selloff in about two months on Monday.
In the earlier Asian session, all major indices edged lower. Australia's (-2.19%) underperformed in its worst session in two months. The country is dependent upon China as its biggest trade partner—and ING economist Timme Spakman pointed out that Trump's latest tariffs move may impact China's willingness to negotiate over trade, "knowing that a deal could very well be short-lived."
Ironically, however, China's (+0.31%) outperformed the region. The contrasting reaction of the two indices may be explained by two reasons— fundamental and political. China would be able to withstand a slowdown better than Australia—not only because it is the second largest economy in the world, but also because of its political system, that is not as reliant on the electorate as the Australian system.
Global Financial Affairs
Yesterday, the tumbled 1.12% on trade concerns, followed by the , which retreated 0.96%, and the , which lost 0.86%.
Meanwhile, yields on Treasurys closed well off their highs but managed to still hold onto the rally since the Nov. 21 low—though they steeply reversed the climb this morning.
Technically, rates have been supported by the 50 DMA since the previous low, after it had crossed above the 100 DMA. They also scaled above the long-term downtrend line since the Nov. 8 peak.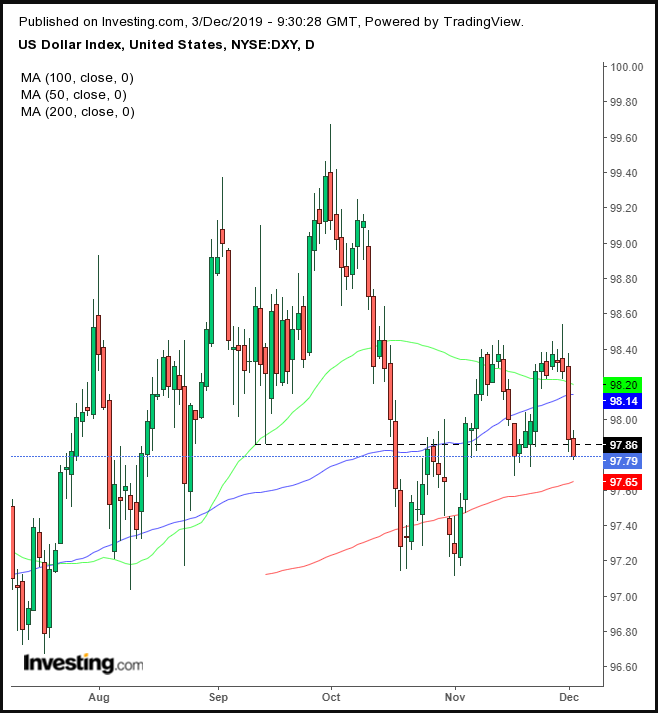 The dropped for the third day, after U.S. amplified a contraction, boosting fears of a slowdown. Technically, the USD has found support at the 98 level, which has been a support-resistance area since Sept. 11—and the 200 DMA realigning with that price level demonstrates it as a "red line" for the supply-demand balance.
extended gains from Monday as traders gauged the probability of OPEC and ally oil producers when they meet . Technically, the commodity within a rising channel.
Up Ahead
Germany releases data for October on Thursday.
Saudi Aramco's initial public offering is scheduled to be priced on Thursday, with Riyadh looking to raise more than $25 billion.
U.S. , coming out on Friday, are expected to have risen by 190,000 in November.
Market Moves
Stocks
France's advanced 0.2%.
The declined 0.4%.
Currencies
The Dollar Index was little changed.
The advanced 0.3% to $1.2977.
The was little changed at $1.1083.
The weakened 0.1% to 109.10 per dollar.
Bonds
Germany's yield climbed one basis point to -0.27%.
Italy's yield advanced two basis points to 1.376%.
Japan's yield gained two basis points to -0.022%.
Commodities
West Texas Intermediate crude advanced 0.6% to $56.29 a barrel.
fell 0.7% to $85.78 per metric ton.
climbed 0.1% to $1,463.22 an ounce.
slid 0.5% to $2.64 a pound.
How useful was this post?
Click on a star to rate it!
Average rating / 5. Vote count:
No votes so far! Be the first to rate this post.